Our Team
Leadership Team and Aery Core Values

The Aery Aviation Leadership Team: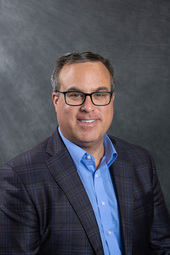 Scott Beale, A&P, ATP
Executive Vice President,Chief Operating Officer
Aviation professional and entrepreneur Scott Beale has more than 25 years of experience growing successful aviation businesses. His entrepreneurial success includes developing, owning, and managing multiple startup businesses with responsibility for all facets of operations, human capital management, sales and marketing, finance, customer relations and brand development. Scott Beale currently serves as the Executive Vice President and Chief Operating Officer of Aery Aviation and its subsidiaries. 
He previously held executive positions in various aviation firms including as Senior Vice President of Sales and Corporate Development at Tempus Applied Solutions and CEO and President of Aerodynamics Incorporated and FlightWorks. Skilled in negotiation, operations management, management, customer service, and strategic planning, Scott is a strong business development professional who has worked in several roles across many organizations including sales, business operations, maintenance, modifications, integrations, and flight operations. 
He is a licensed commercial multi-engine pilot with type ratings in Gulfstream and Citation aircraft and experience in multiple aircraft types, holds a commercial rotor wing license and is a certified airframe and power plant mechanic. He earned his bachelor's degree in aviation business management from Ohio State University in Columbus, Ohio.

Steve Walton, DER, IA
Chief Executive Officer
A 45-year aerospace visionary and executive, Steve Walton is a founding member of Aery Aviation and currently serves as Aery's Chief Executive Officer. An expert in aircraft alterations and modifications, Supplemental Type Certificate (STC) and Parts Manufacturer Approval (PMA) with emphasis on Secure Data and Embassy Communications, Steve is also an FAA Designated Engineering Representative (DER), Inspection Authorization (IA)/Airframe and Powerplant (A&P) Mechanic, 135 Director of Maintenance, and an Aircraft Pilot/Flight Engineer Instrument Flight Rules (IFR).
Steve leads by example and unselfishly shares his knowledge to complete unique, high-end aircraft that exceed the customer expectations. An energized partner in business, he has served in executive roles for several organizations including Tempus Applied Solutions, BaySys Technologies, and Decrane Aerospace.
A United States Navy veteran, Steve earned his Aerospace Engineering degree from Embry-Riddle Aeronautical University.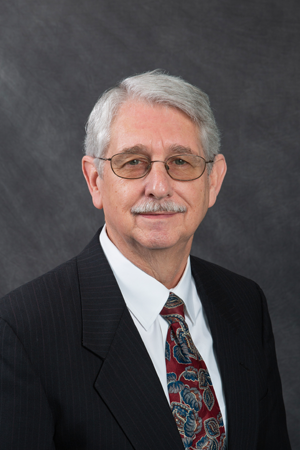 Robert Dynan, MBA
Vice President of Finance
A talented operations, management, and logistics executive, Bob Dynan has 30 years of production management experience and 23+ years of Financial Management experience spanning austere, remote location maintenance, and flight operations to mission modification production management.
He earned his Master of Business Administration (MBA), Operations Management and Supervision from Harvard Business School and his bachelor's degree in Aviation/Airway Management and Operations from Auburn University.
Ian Raeburn, MBA
Vice President of Finance & Administration
A proven leader with a strong track record in reshaping and growing profitable businesses, Ian has a wealth of leadership experience in capital investment, finance, and strategy working with several organizations in Europe and the United States.
Ian spent the first decade of his career with A.P. Moller-Maersk, the global leader in ocean shipping and logistics living overseas in Europe, and in several U.S. locations. He was then brought onboard with Ferguson Enterprises as a Divisional CFO. After several years of delivering best in class business performance in collaboration with Divisional leadership, he was asked to turnaround a key P&L and geography, reshaping the team, and growing profitable business with new initiatives, he was then asked to lead two digital businesses for Ferguson, integrating a new acquisition and over-delivering on the three-year business plan. Ian then joined Aery Aviation in the Fall of 2022 as Vice President of Finance and Administration leading the Supply Chain, IT Services, and Travel responsibilities.
Ian obtained his Master of Business Administration from Indiana University Kelley School of Business, a top tier MBA program. He earned his bachelor's degree in finance and economics from the Miami University Richard T. Farmer School of Business. Ian and his family have called Virginia Beach and the surrounding area home since 2008.

Aylin R. Rosetta, MBA
Vice President of Programs
Aylin Rosetta is an accomplished professional with over 20 years of leadership experience in the fields of engineering, manufacturing, and program management. She joined Aery Aviation in 2023 as VP of Programs.
Upon commissioning as a naval officer, Aylin was selected for pilot training where she flew the T-34 and T-45 in the advanced strike pipeline. She later transitioned to the Navy Civil Engineer Corps as a project manager in Naval Facilities Engineering Command. In 2007, Aylin relocated to Virginia and began her civilian career in the defense industry where she served in various leadership roles of increasing responsibility including Nuclear Quality Supervisor, Quality Department Manager, Director of Manufacturing, and Director of Planning & Scheduling, and Director of Programs. During over 15 years in the Fortune 500 defense space, she made significant contributions to company success, leveraging her vast functional expertise to drive excellence and improve operational efficiency in program execution.
Aylin graduated from the United States Naval Academy with a Bachelor of Science in Mechanical Engineering and a Minor in Spanish. She also holds a Master of Business Administration from the University of North Florida.


Randy Knoblock
Vice President of Ground Operations
Randy Knoblock is an experienced 47-year aviation veteran with a demonstrated history serving in various management positions ranging from Shift Manager to Vice President of Technical Services. Skilled in Avionics, Operations Management, Aircraft Maintenance, Quality, Airlines, and Aerospace, he has successfully led small and large teams of technical personnel ranging from 12 to 220 personnel.
For a variety of FAR 135 and FAR 121 Air Carriers and FAR 145 Repair Station organizations, Randy has served in a variety of management positions including Accountable Manager and Repair Station Manager.
Formally trained on many aircraft including models ranging from the Learjet 35/36 to the Boeing 747 as well as a great variety of engines and systems, Randy earned his Bachelor of Arts in Marketing/Marketing Management from Colorado University.

Ahmed Bashir
Vice President of Global Sales and Operations
An accomplished management and corporate development executive, consultant, and advisor for several multi-national companies, Ahmed possesses vast experience in international business and corporate development, strategic sourcing and offshore development, key relationship management, aviation management, and information technology. Throughout his career, he has developed important relationships with top-level decision makers in the aerospace industry throughout the Middle East and Asia. He joined Aery Aviation as the Vice President of Global Sales and Operations in February 2023.
Ahmed's experience has involved large aircraft completions, operational and financial management, the negotiation and financing of acquisitions, and the development and implementation of strategic plans and strategic planning processes. He previously served as the Chairman and CEO of Emerald Aerospace, LLC; President/ CEO of Aviation Systems Management LLC (ASM); and President & CEO of Defense Consultants International, Inc., a subsidiary company of MTC Technologies where he began his career in 1991. During his tenure at MTC International, he became an advisor to Chrysler Technologies Corporation and the BBA Group PLC of Great Britain. Ahmed has also served in several senior advisory roles and board positions throughout the aerospace and commercial aviation industry including Ozark Aircraft Systems, Innovative Aviation Systems Corporation, EADS Aeroframe Services, and Mitsubishi International Corporation.
Ahmed earned his Bachelor of Science degree in electrical engineering from Wright State University in Dayton, Ohio. He is a citizen of the United States and multi-lingual in English, Urdu, Hindi, and Arabic.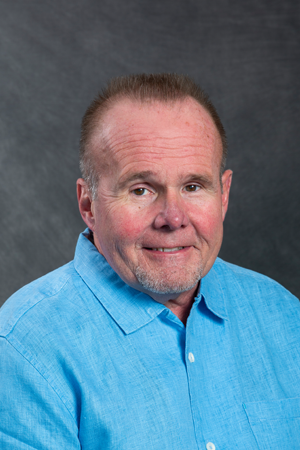 Larry Hecht
Vice President of Flight Operations
An accomplished executive with more than 38 years of leadership experience in Air Carrier operations and corporate flight operations, Larry currently serves as Aery Aviation's Vice President of Flight Operations.
Throughout his career, he has served various organizations in several roles including as Pilot in Command, Instructor Pilot in aircraft and simulators, a Proficiency Check Airmen and Line Check Airmen, an FAA Designated Pilot Examiner, Chief Pilot, and Director of Operations Part 121, 125 and Part 135. Larry has also written numerous aviation manuals for Part 121, 125 and 135 operations. He holds an Airline Transport Pilot certificate with numerous type ratings. Larry's hobbies include boating, motorcycling, and hanging out at the beach. 
Luke Ribich
Director of Engineering
Luke Ribich is an experienced aircraft technical operations, engineering and certification, and project management executive with over three decades of experience in the aviation industry.
As an engineer, patent holder, and innovator, Luke has been instrumental in creating value through a patent portfolio valued at $2.6 billion. He has also led operational success at Frontier Airlines, improving operational performance from the bottom of the industry to the top quintile within 12 months. As the General Manager of ASIG, he spearheaded culture and product development initiatives that resulted in developing and certifying several avionics products. Luke's path to leadership has included tenures at global MROs in production, fortune 50 companies where he was responsible for aircraft fleet capital improvements, and equipment manufacturers and component repair stations where he managed maintenance, modifications, quality, engineering, and business strategy.
Luke is a United States Marine Corps veteran who holds a Bachelor of Science in Aviation Management and a Master of Science in Project Management.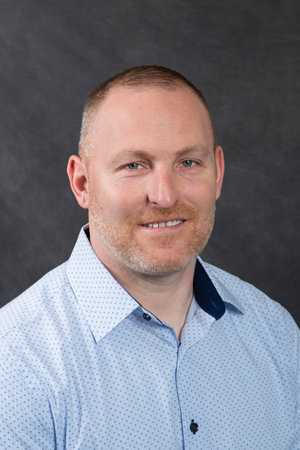 Steve Pakusch
Director of Compliance
United States Airforce veteran, Steve brings a wealth of valuable experience to Aery having served more than 22 years in various roles for the Air Force. Joining Aery in November of 2021 as the Quality Manager, Steve was promoted to Director of Compliance in September 2022. As Director of Compliance, Steve leads Aery's Quality, Safety, Security and Facilities departments, ensuring regulatory compliance across the company.
Before joining Aery, Steve was a Quality Manager with Boeing on the VC-25B "Next Generation Airforce One" program. Steve entered the USAF as an Aerospace Propulsion Apprentice and went on to hold roles as a Flying Crew Chief, Quality Assurance Chief Inspector, Engine Manager, Production Superintendent, and completed his military career as a Propulsion Program Manager at HQ Air Combat Command.
Megan Deleon, M.S.
Director of Supply Chain
United States Army Veteran Megan Deleon is a highly experienced logistical professional with 16 years of Department of Defense (DOD) and industry experience. Her vast expertise stems from the US Army, Gulfstream Aerospace, FAA, State Department, and Pentagon. Megan joined Aery Aviation in 2022 as Director of Supply Chain.
With exceptional expertise in logistics management, Megan manages dynamic business fluctuations domestically and internationally and leads continuous improvement initiatives across all aspects of logistics actions. Megan has previously held roles including Military Analyst, Supply Chain and Aviation Logistics Consultant, and Senior Security Logistics Coordinator for reputable organizations.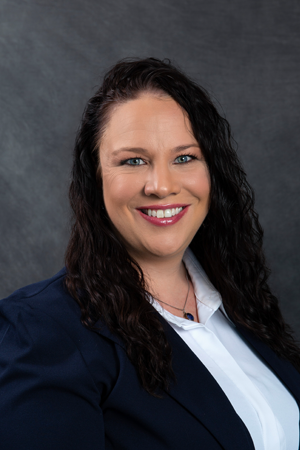 Misty Reinhardt, SHRM-CP, BSB-HR
Director of Human Resources
A dynamic Human Resources professional with a demonstrated history of strategic planning, analytics, and benefits administration, Misty has 15 years of Human Resources experience across various industries. A passionate leader who specializes in employment law, compliance, and organizational development, Misty joined Aery Aviation in 2021 as the Director of Human Resources.
Misty believes in solutions that help companies harness the full power of one of their most valuable assets- their people, and in empowering and motivating employees to realize their full potential. She has previously held human resources roles as director, manager, administrator and supervisor for organizations including AIT, Surge Force, 9th Way Solutions, CTR Group, and Kelly Services.
Misty currently holds a Society for Human Resources Management Certified Professional (SHRM-CP) certification. She is working on her Master of Business Administration in Human Resources Management/Personnel Administration from Liberty University and holds a Bachelor of Science in Business with Human Resources Management cognate from University of Phoenix, as well as an Associate of Arts in Business Administration and Management from Western International University. While working full-time, Misty also spent three years serving her community as a Volunteer EMT and currently holds a VA-EMT-B certification.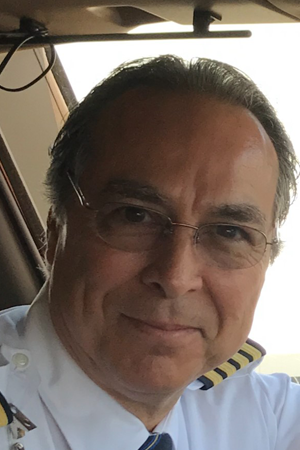 Nicolas Garcia
Chief Pilot, CCF
A skilled pilot with more than 39 years of experience, Nicolas joined Aery as medevac pilot in December 2021 and currently serves as Aery's Chief Pilot for the Cleveland Clinic Foundation. From an Air Force family, Nicolas has wanted to fly since he was four years old. He began his career working as a flight instructor during college and as a charter pilot in Southeast Alaska. After college, he flew for Zantop Airlines flying DC-6 and Electra cargo planes. He retired from United Airlines in 2020 after 36 years of flying 777s and Dreamliners.
Nicolas earned his Bachelor of Science degree in Engineering with a minor in Business from San Jose State. He also has his FAA Airframe and Powerplant (A&P) certificates. During the pandemic, Nicolas created the first automated N-95 mask factory in the Pacific whose moto was "Let's Save Some Lives!" Nicolas has lived in Germany and England before settling in California. His hobbies include swimming, golf, and biking.
Michael P. Godwin
Director of Maintenance
Part 91 and 135
A dedicated Aviation Maintenance Professional with more than 20 years of experience serving a variety of customers ranging from General Aviation to the United States Armed Forces around the world. Michael joined Aery in 2021 first as a Quality Control Inspector and later moving to the Director of Maintenance for Part 91 and Part 135 operations expanding his experience to cover Air Ambulance operations.
Michael began his career as an apprentice mechanic restoring WWII aircraft while attending Airframe and Powerplant (A&P) school. He gained a wealth of experience on a wide variety of technology including radial engines, high bypass fans, "steam" gauges, and digital encoding altimeters. Working on those old warbirds and later finding an opportunity to help train the U.S. military as a contractor providing arial target towing and threat simulations in Air-to-Air and Surface-to-Air scenarios gives Michael a huge sense of pride. He always does his best to provide what's needed to help keep our service members sharp and ready when called on.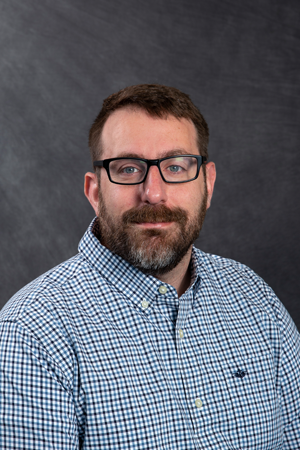 Aaron Bonanni, MBA 
Safety Manager
During Aaron Bonanni's United States Air Force (USAF) career, he focused on producing jet engines, developing the next generation of leaders, and most importantly, creating a safe environment for the shop personnel as a Senior Non-Commissioned Officer in maintenance. After completion of his 22-year USAF career, Aaron joined Aery Aviation in May of 2022 as a Talent Acquisition Specialist and was promoted to Safety Manager in February 2023. 
In the USAF, Aaron served in several roles including as a jet engine mechanic on several different aircraft, safety manager, and program manager. He also led maintenance shops with more than 160 airmen.  
During his career Aaron was afforded the opportunity to go to three different Leadership schools, obtain a bachelor's degree in safety from Embry Riddle Aeronautical University, and an MBA from Liberty University with a focus in Human Resources.  
Michael Pruitt, MBA, ATP
Chief Pilot HEEWJ (High Endurance Electronic Warfare Jet)
After a brief time as a Comptroller in Oklahoma City I joined the Navy and Enjoyed an 18-year career flying the A-6 and F-18. I spent most of my Navy career based on Aircraft carriers in the Western Pacific, the Arabian Sea, and the Mediterranean. After the Navy I was extremely fortunate to be hired by Delta Airlines where I flew for 22 years. I flew mostly Boeing aircraft both Internationally and domestically. At age 65, I retired but continued flying Medivac flights in the Lear Jet based in Teterboro, NJ. I was incredibly lucky to come to Aery Aviation in March of 2022. After a year of building my skills and experience in the Aery Aviation missions, I was offered the position of Chief Pilot.
In the Navy I was trained as a Landing Signal Officer (LSO) and a Safety Officer. I was an instructor at the A-6 Fleet Replacement Squadron (FRS). I was the Airwing LSO and Strike Officer on the USS Midway which was the Flag ship for ADM March in the Persian Gulf for Desert Storm. My next deployment was to the Adriatic Sea to participate in the Bosnia Croatia conflict. I finished my Navy career at the Safety Center at NAS Norfolk where I was a Safety Analyst and responsible for making the Mishap Data base available to every squadron Safety Officer on the Inernet.
My time at Delta was equally challenging and rewarding. I flew as much as I could and would take my family with me at every opportunity. I was able to share the world with my wife and kids while flying for Delta. It was a wonderful opportunity you seldom hear about. I turned down opportunities in finance and safety from both the company and the union. I preferred to fly. I have always enjoyed flying and helping or teaching the pilots that I fly with or work with.
I have many awards, accommodations, and medals from both the Navy and Delta Airlines, but what I cherish the most are the friendships and experiences with my shipmates and crewmembers.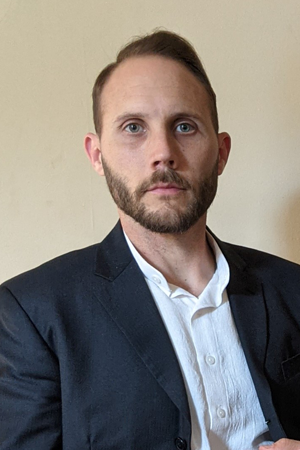 Avery Johnson
Training Manager
For over a decade, Avery has been involved in the aviation industry, effectively managing maintenance teams and leading aviators in complex flight operations. As a passionate teambuilder with extensive experience developing elite organizations across a breadth of disciplines, Avery joined Aery Aviation as the Training Manager in 2021.
Avery has facilitated both individual and group improvement through various methods of training for seventeen years. He finds fulfillment in building cohesive, agile, and efficient teams that operate fluidly in dynamic environments. Avery has designed and implemented a variety of training programs from technical skills to leadership development. He also actively seeks opportunities to strengthen culture, refine policy, disseminate knowledge, and streamline processes.  
Avery received a private university education in Classical Studies, Mythology, and Studio Arts. Among other activities, he enjoys coaching young athletes and strives to integrate a creative spirit into his daily lifestyle.
Ready? Let's connect to solve your challenge!
CALL NOW